Installations & Inspections
Installations
Roto-Rooter Sewer-Drain Service installs several types of plumbing components for new buildings, recently remodeled areas, and replacement systems. We install: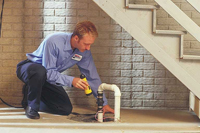 •Sinks
•Toilets
•Showers
•Bath Tubs
•Pipes
…and other plumbing fixtures
Inspections
Roto-Rooter Sewer-Drain Service also offers inspections for any plumbing fixture. We have video cameras ranging from 2" to 12" and lines that extend up to 325". We even have toilet video cameras to uncover the cause of even the most elusive plumbing problems. These inspections can be done as preventative maintenance or to detect the location of a sewer line before making exterior repairs. Our cameras are connected to TV monitors so the plumbing team and the customer can quickly see what's going on in the pipes. We then create a detailed report and follow up accordingly, whether that requires continuing with repairs or installations, ordering a part, or scheduling a follow up appointment.