Plumbing Repairs & Services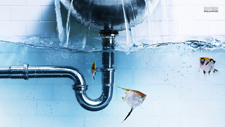 Roto-Rooter Sewer-Drain Service is the trusted name is Saskatoon for all your plumbing repair and service needs.
Leaky Faucet
While a dripping tap may seem like only a small problem with your sink, it can become a bigger problem if it doesn't get repaired or if repairs are done incorrectly. Call Roto-Rooter Sewer-Drain Service to take care of your leaky faucet. We'll find out what's causing the leak, take the faucet apart, obtain the replacement parts and reassemble it, making it better than new with our high quality product upgrades. Our skilled plumbers will determine if the leak goes deeper than the faucet itself, inspecting the handle, nut, stem, washer, and decorative caps for damage or wear. We'll quickly find the cause of the problem, turn off the water, and get the repair done so you can go back to using your sink as usual.
Clogged Drains
Roto-Rooter Sewer-Drain Service designed a unique drain cleaning machine back in 1933, and since then, homes across Saskatchewan and all of North America have come to trust our company to handle their plumbing repairs. Our techniques are tough to match, and Roto-Rooter Sewer-Drain Service knows that time is of the essence when it comes to clogged drains. Let us do the grunt work so you can focus on more important things. Most often, clogged drains are caused by material or object going through the pipes that don't belong there. We are trained to fix and prevent drain clogs from main sewer lines, washing machine backups, and garbage disposal buildup. Our plumbers can remedy commercial drain clogs as well.
Other Repair Services
Our Saskatoon Roto-Rooter Sewer-Drain Service is available to assist you when commercial cleaners just aren't enough. When it's time to call in the experts to fix a faucet, toilet, drain, or water heater, you can rely on us. In addition to leaky faucet and clogged drain repairs, we also repair and service:
•Toilets
• Bath Tubs
•Sewer Lines
• Floor Drains
Call Roto-Rooter Sewer-Drain Service for a prompt response to any plumbing need, including emergency service calls.